Meryl Davis and Charlie White: Living in the moment
Meryl Davis and Charlie White are the most decorated ice dancing duo in the history of American Figure Skating. After skating together for nearly 20 years, Davis and White have reached the top of their sport, capturing gold in the 2014 Olympic Winter Games in Sochi, Russia and at the 2011 and 2013 World Championships. After a breath-taking performance to Scheherazade, their free dance music at the Sochi Olympics at the Opening Ceremony of the 2015 World Championships in Shanghai, Davis and White returned to China this summer, joining the cast of Artistry On Ice for their first ever non-competitive experience in China.
Shortly after Davis and White returned home from China, SkatingChina journalist had the opportunity to speak with the American duo on their remarkable competitive career and their post-Olympic lives. They graciously shared with us key milestones in their career and how their lives have changed after Sochi.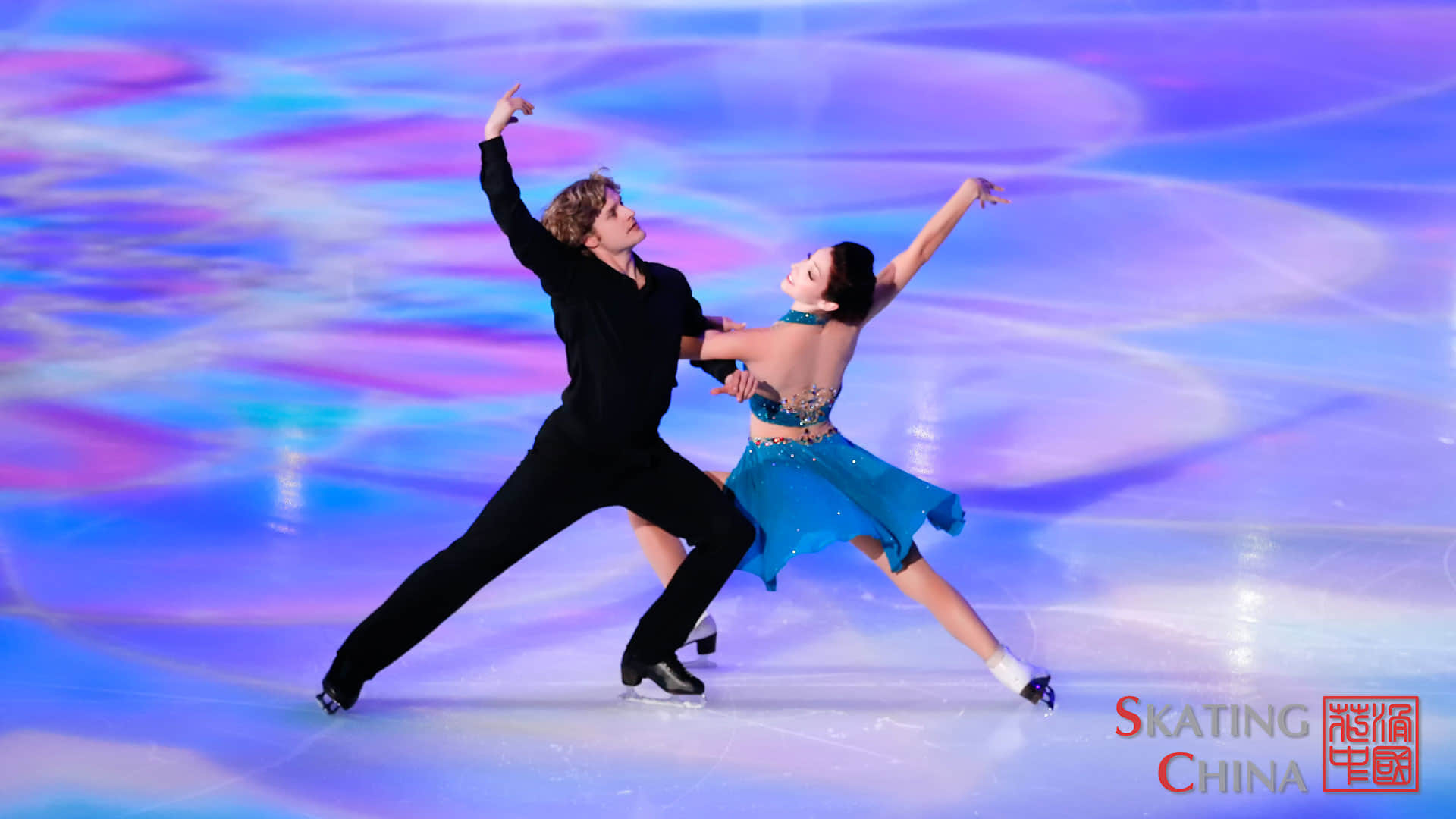 Davis/White at the opening ceremony of 2015 World Championships (Photography Ruiyang Liu/SkatingChina)
Competitive Career: Making history for American figure skating
Davis and White had many "firsts" in their competitive career: they were the first American dancers to win both the Olympics and the World Championships. They were the first U.S. ice dancers to win 6 national titles. They were also the first ice dancers in the world to win 5 consecutive Grand Prix Finals. Despite achieving remarkable success as competitive ice dancers, Davis and White remain extremely humble and are very appreciative of the people who have helped them throughout their journey. In the following section of the interview, Davis and White shared with us highlights in their nearly two-decade long partnership and what it was like training with their top competitors on a daily basis.
SC: You are the longest lasting ice dancing duo in the history of American ice dance. When you first teamed up, why did the partnership click that quickly?
Meryl: I think that one of the great things about our partnership was that when we were first starting, we never looked into the distant future. We were just enjoying it at the time. The farthest we have looked in a really long time was the next competition in front of us. And I think that really helped us approach improving. It was a really great way to improve steadily from one year to the next and just enjoy it. I think if you are focused so much on great success, if you are focused so much on what is going to happen a decade and a half down the line, it can be really overwhelming. But for us, we really looked at smaller goals and things that were more attainable at the time.
SC Many people feel that your career has progressed really smoothly, but have you had any low points in your career?
Meryl: In 2005, Charlie broke his ankle playing hockey, and we missed all the important competitions that season because we missed the qualifying competitions to the US Championships. We've gone to junior worlds the year before, and we were kind of moving our way up steadily. At the time it felt like it was very detrimental to our progression to not be able to compete that year, but looking back, that year was really crucial for us for a lot of reasons. Not being able to skate for the first time physically really gave us a new appreciation for how much we love skating. We knew we liked it, but we have been children up until that point. So I think being 17, 18 years old, being faced with their idea of not being able to do what we just take granted our whole lives, it was a really great time for us to assess our feelings towards ice dance.It just makes us appreciate and work harder from there on now. There were a couple things like that. Like we got 4th by 0.04 points at the 2009 Worlds.
Charlie: It is tough as Meryl said, in retrospect, so many of our low points don't seem like such low points. But at the time, that was a really tough one to just in your head, trying to accept that you were that close to getting your first world medal. But the next year leading into the Olympics, it was such motivation. I don't think before that, we thought we could be any more motivated honestly. But when you wake up in the middle of the night, all you could think about right off the bet is that losing by 0.04 points. You are going to work a little bit harder the nextday.
SC: You have made a lot of breakthroughs during the 2009-2010 season, winning the Grand Prix Final for the first time in your career and capturing silver in the Olympics. What do you attribute your success to in that season?
Meryl: From one year to the next, we really start to appreciate where we could continue to take our skating. We were always monitoring the way we look in competitions, and we spent a lot of time watching video and analyzing how everything looked as a complete package because at one time, we were a very technical team that really needed to work on our performance capability. So I think in 2009 at the World Championships, we really had this moment of realizing we can do the other side of it as well. We just needed to really work on it. So I think going into the 2010 season, we had this newfound confidence in our ability to potentially be the complete package. So for the next four years realistically, from 2010 to 2014, that was really what we focused on, was just being the complete package. I think the 2009 season really opened up our ability to see our own potential.
SC: Many Olympic medalists from the Vancouver Games decided to take a year off. So was it hard to go back to training right after the Olympics? Were you thinking about Sochi right after Vancouver?
Charlie: It was very hard. It was such a weird feeling for us. The Olympics were even so beyond what you would imagine, especially competing and then having success. There was such a steep drop off emotionally from that moment, even heading into the world championships where, again, we got silver. So to restart the year was challenging. Everyone is in the same boat for the most part. Everyone really struggles with that and a lot of the times you won't see the best from anyone until basically the world championships the following season because it kind of takes you that long to really get it back not so much physically, but emotionally. And while it was a bit of a struggle, we learned a lot of valuable lessons about what we needed to do not just to be successful, but to be the best in the world, what we need to see from ourselves on the ice in terms of growth, and in terms of the music that we pick and the way that we approached choreography. A lot of the things because of the struggle emotionally getting into it, had helped us in the years leading up to 2014.
SC: Speaking of being on top of the world, the three seasons after 2010, the world title was trading back and forth between you and the Canadians. What was it like training with your top competitors with the Olympics approaching? How did Marina divide her time between you, the Canadians, and her other top teams?
Meryl: I will start out with the second half. I think our coaches did a really amazing job. I can't imagine coaching two teams who were fighting for the top position in the world. What a challenge not only to divide their time equally, but to come up with creative ideas for both teams who are very different. We are very different from Tessa and Scott. That being said, we only see our experience training with Tessa and Scott as a positive. Of course it was challenging every day to see them training and see their talent. We could never take it easy, which is hard, but it was the best thing for us. I think we are a pretty motivated team anyway, but to have one of the most talented ice dance teams in the history and our top competitors at the rink with us every single day was probably the most motivational thing we could ever ask for. Having that really motivated us to be the best we could possibly be.
The Sochi Olympics: all hard work came down to this moment
Davis and White had probably the best build-up to Sochi that any athlete would ever ask for: they were defeated only once after the Vancouver Olympic season and took the top spot in the two biggest tests leading up to the Sochi Olympics: the 2013 World Championships and the Grand Prix Final later that year. Although many people thought the Sochi Olympic title was theirs to lose, they still had their concerns going into the Sochi Olympic Games. Davis and White's quest for Olympic Gold in Sochi was a lot harder than it seemed.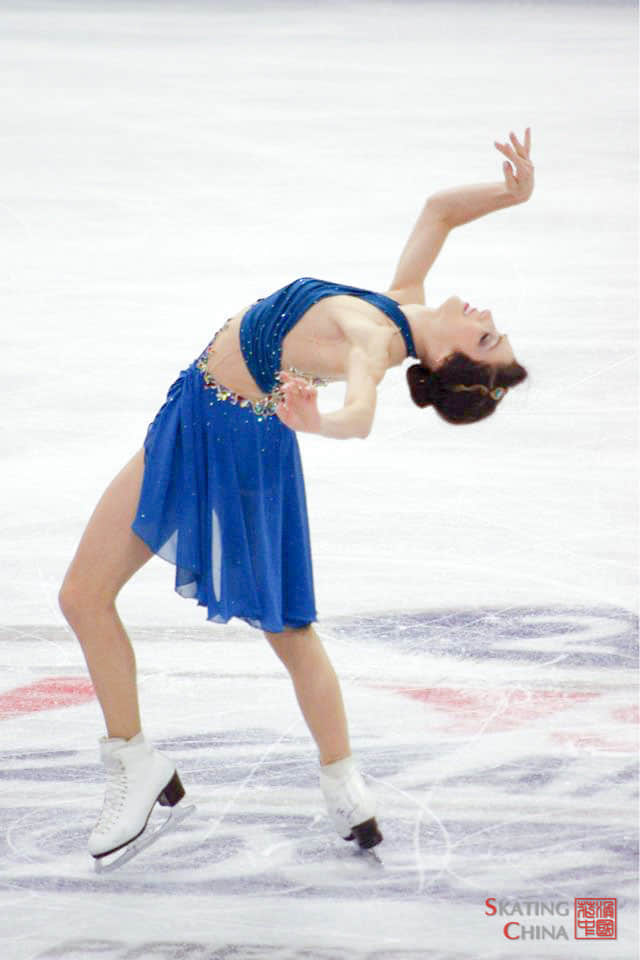 Davis/White's Free Dance at season 2013-2014 (Photography Share Wang/SkatingChina)
SC: You competed at the US International Classics prior to the Grand Prix series in the 2013-2014 season. You don't usually compete in summer competitions leading up to your Grand Prix assignments. So why did you choose US International Classics?
Meryl: We really wanted to get our material out there earlier in the Olympic season. Usually in a season you want to peak at the world championships, which is in March, but the Olympic season of course you want to peak at the Olympics, which is a month earlier. We really thought that we were almost starting around the same time because we usually start in October. We were starting in September. So in terms of when we wanted to peak, it was sort of a similar time to what we were used to. But we really wanted to make sure that we were getting positive feedbacks for both of our programs. In addition to that, the off season leading up to the Sochi Olympic year, we didn't do any shows, just focused on preparing for competition, which allowed us to prepare a bit earlier than usual. We usually take a month total and do some shows throughout the course of the summer, but we really decided that going into the Olympic year we just wanted to put everything into preparing for the Olympics. And that was a really smart choice for us, and it allowed us to start off feeling strong at the US Classics.
SC: You managed to stay undefeated before the Sochi Games. And going into the team competition, why did you decide to compete in both portions while many top skaters chose to compete in just one?
Charlie: We wanted to do as well as possible (laugh). Really we thought it was another amazing opportunity at the Olympic Games, and to potentially win another Olympic medal. We understand really well that you have so few opportunities in your lives to really seize that moment. I think that is our attitude in every single competition and is something that has always worked to our advantage. It is just the psychology behind competitions: if you have the opportunity, you are going to take it. It was very challenging just because the Olympics are so emotionally exhausting, to have one event and then have to do another one following just shortly after, it was a very tough challenge, but it is something that, if we are given the opportunity again, we would certainly want to do, because as I said, you only have so many chances.
SC: People always talk about peaking at the right time. It seems to me that you already peaked in the team competition, but what did you do in between the team and individual competitions to stay focused and try to peak another time?
Meryl: I'm not going to lie. That was something we were concerned about as well. We were thinking, we felt so good about the way we performed during the team event, what if we go into the individual event, we cannot perform the same way? That was really scary. But I think one of our main reasons for our consistency from especially the 2012-2013 to 2013-2014 seasons was that we had developed a system for being completely and utterly ready for competition no matter what. Whether it was starting to build our training at the right time, taking time off when we needed to, making sure our bodies were recovered when we got back on the ice. Everything about the way we approached competition was very well thought out. So when we stepped on the ice for competition, there was never any question that we were completely ready. So even though as I said, we were a little bit nervous to compete twice within a three-week period at the Olympics, we had talked a lot with our coach Marina going into the Olympics, and we just realized, we had been training consistently for years, and we were so ready to perform at our very best, that if we have the opportunity, like Charlie said, to compete four times at the Olympic Games, it's only a positive thing for us.
SC: Another challenge you faced at the Olympics was that you skated last in both portions of the team and individual competitions and there was a fairly long waiting time between your warm-up and your actual performances. What is your routine to stay concentrated and ready to compete?
Charlie: It's never easy, especially at the Olympics, when you just want to get out and do it, because you feel that the weight of the world is slowly crashing to you (laugh).Unimaginable anxiety is the feeling I would use to describe the moments in between the warm-up and when you skate. The less time there, usually the better. But on the flip side of the coin, we recognized that we had the opportunity each time to really put an exclamation point on the event. Because of all of our experiences, we had been first, we had been second, we had skated last so many times in every different way and every imaginable circumstance, we were able to, without even saying anything, had the understanding that this was just all the work and competitions that have come before the Olympics and just the way it had to be. I think with that mindset, you can kind of deal with the pressure and anxiety in between these two things. And honestly, as soon as you step on the ice, you become ten times less claustrophobic and you suddenly realize you are actually able to skate.
SC: Standing on the top step of the podium in the Olympics is something that every athlete thinks about. Now that you have finally achieved your career-long goal, can you take us back to that moment? Were you more emotional during the flower ceremony as it was right after the competition, or was it the actual medal ceremony later on that got you more emotional?
Charlie: I think we were equally excited. We felt really lucky that there were two separate ceremonies so that we could prolong the experience of our dream come true. Standing on top of the podium at the Olympics specifically is really crazy. It doesn't feel like real life when you are up there. Trying to come to terms with the idea of becoming an Olympic champion is not something that you prepare for as an athlete. Talking with you just now, you have an idea of how much thought we put into every little thing going into the competition, but we definitely never considered the outcome other than maybe we hope to earn this. But becoming an Olympic champion and representing your home country is a really special feeling and when you are on the podium, it gives you a perspective on how you got there. Both of us became very appreciative, not that we weren't always , but in that moment, of the work that everyone else put in, our parents, our coaches, our families, the US Figure Skating, the judges. And what a big part that everyone else played in our ability to succeed. And I think we are really lucky to be able to look at it like that. That's something that makes your experience that much more enjoyable. And it was really special for us.
After Sochi: Seeing the world in a different light
Davis and White dabbled into ballroom dancing right after competing and capturing gold in Sochi. Shortly after the Olympics in 2014, Davis and White announced that they would be competing against each other for the first time on ABC's hit reality show Dancing with the Stars, in which Davis and White, among other cast members, were paired with professional dancers. Although Dancing with the Stars was an intense competition full of drama and twists, Davis and White approached it as an opportunity to share their Olympic experience and celebrate their success with the American audience. Charlie White ended up finishing fifth in the competition while Meryl Davis lifted the Mirror Ball Trophy. Regardless of the results, Davis and White both gained immensely from the experience and are continuing to work with their dance partners after the show.

SC: The year after Sochi has been extremely busy for you two and you tried out different interesting things, of which was Dancing with the Stars. You were doing right after the Olympics and along with Stars On Ice. How did you deal with all the traveling and rehearsal time?
Charlie: I don't really remember because it was such a blur (laugh). I am joking, but it was really really intense, just the travel. Specifically for Dancing with the Stars, we had to learn so much new content every week. Our partners had to travel with us and we were in the studio 4 hours, 5 hours a day, doing the show (Stars On Ice) is every night. So it was a real experience, and we were definitely exhausted. But winning the Olympics would really give you a fresh look on life, so we just enjoyed it. There was no reason for us to be scared of being tired. We were not training any more. We are not training right now. We are really loving this opportunity with Dancing with the Stars. It was crazy, it was fun. And of course our Stars On Ice family means so much to us, so to be able to get the most of both of them was pretty special, but it was really hectic.
Meryl: We really loved what we are doing. Dancing with the Stars was such a fun experience. And Stars On Ice immediately following the Olympics and then getting a chance to share our Olympic experience and our pride in being able to bring home the Olympic gold medal during the course of Stars On Ice that year, we really felt that we were sharing that with American audiences, which was a really special feeling. In particular one of our programs was our free dance at the Olympics for that tour, so to be able to really show that program and to get to share that with people from our home country, it was very touching for us I think.
SC: How do you think your Dancing With The Stars experience has helped your skating?
Meryl: Sure. I think it really opened up sort of my understanding of different style and movement, and it makes me more comfortable expressing that, just moving in different ways.  I think I loved dancing even more than before, so being able to bring that to the ice is really exciting.
SC: During Dancing with the Stars, Charlie, you took the early lead in the show. How were you able to adjust to ballroom dance that quickly and be comfortable with performing with a different partner?
Charlie: I think what helped me was that we started off with a contemporary dance, and that's the most like figure skating of all the dancing we did on the show. Of course the dances are very similar, but the style is so different when you get down to ballroom dance versus skating. The way you move your center of weight over whether it be the ice or the floor is very different. In skating, most of the time you keep your whole body connected, and in ballroom what they are able to do so well is to move each individual piece of their body separately. That was the struggle for me. Early on I think we just threw so much energy at it. It helped a lot with the both of us.
SC: Meryl, congratulations on taking the Mirrorball Trophy! You were constantly on top of the leaderboard, but about half way through the season, there was one week that Abby Lee Miller from Dance Moms was the guest judge and she had some pretty harsh comments on both of your routines from the night. How did those comments impact you performances later on in the competition and how were you able to use them to your advantage?
Meryl: I think that we definitely approached Dancing with the Stars as fun. We both wanted to do as well as possible, more so than actual results, when you go into the show, you are very aware of how many people are watching, so you don't want to look silly. I took her comments and I tried to improve the next week. I didn't take that criticism as I would take criticism for skating. While I tried to improve based on what she said, it was not all about technique and perfection on the dance floor, which was great because that was what our skating career has been about: finding weakness, addressing it, and making sure that we really fix the problem. So on Dancing with the Stars, we just wanted to share an amazing experience with the American audiences. And I don't think anyone was expecting her (Abby Lee Miller) to be soft. I mean it's a TV show, so having characters and a little bit of drama is fun for the show, and we understood that.
SC: Speaking of the drama on the show,  people said that Charlie was eliminated early because they wanted to create that drama. What do you think?
Meryl: I think Charlie was eliminated early because our collective fan base was voting for both of us. Because I had had that challenging week before, probably our fan base voted for me because I had such a low score. That's my opinion on what happened.
Charlie: I don't think it was just to create drama honestly. I think it was just the way it shook out. Even though dance skill wise it was not always how it ends up being determined, we do have an interesting and fun group that I didn't feel bad losing to them per se.
Davis and White decided not to compete last season, but they followed figure skating competitions closely and offered valuable insights into the field of ice dance at the moment. Davis and White think that the sport of ice dancing is at a very exciting place and they are anxious to see where the young talents in the field are taking their skating in the seasons to come.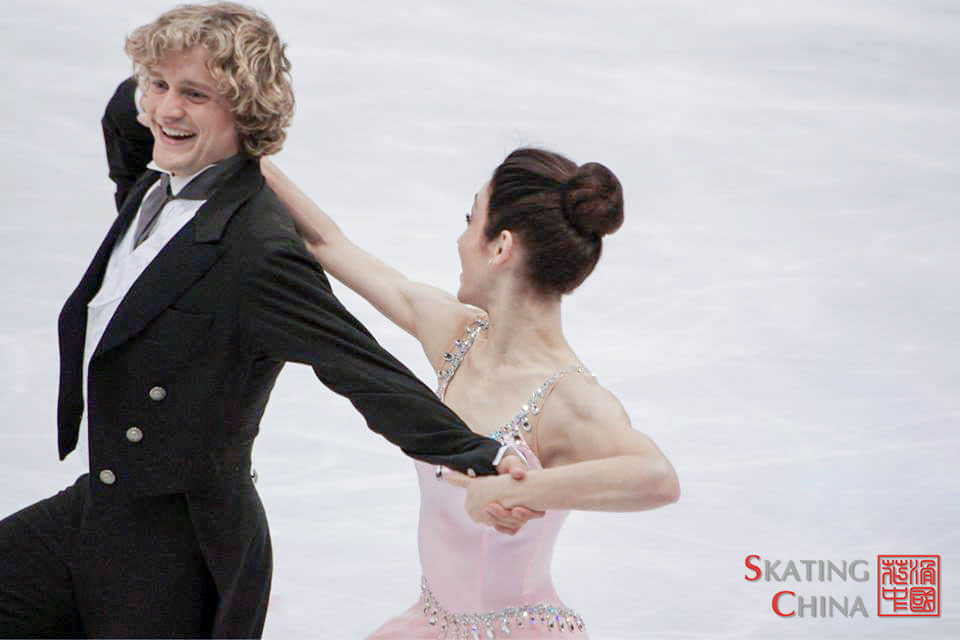 Davis/White in Practice Session (Photography Share Wang/SkatingChina)
SC: You guys took some time off last season. Was it weird to not be competing after being competitive ice dancers for so long?
Charlie: Yes and no. I think we, after the Olympics, need a real mental break. And we were ready for that mentally and physically. But of course there are so many little habits. Even if you figured that you are not going to be doing the big competitions, you don't have to worry about getting your program ready, when it first happened, you feel that you should be nervous, tired, or go straight to the rink and focusing, so you really have to shift the way your brain works. You have to figure out new directives and how to function.
SC: While you were away from competitions, things changed quite a bit in the field of ice dance. Last season was the second one in a row that an European ice dance couple took gold at worlds. How do you evaluate the field of ice dance and the position that North American ice dance is in right now?
Meryl: I don't think it's any surprise that the field is very deep. There has always been a lot of talent, and especially going into 2012-2014, we could really sense that there were a lot of young talents coming up. That being said, there were a lot of surprises. I think two years ago, no one would have expected the French team to win worlds last year, but I think that is one of the beautiful things about ice dance now, is that we are capable of having surprises, which wasn't necessarily the case years ago. It was a little bit more predictable a decade ago. I think as ice dancers, the majority of us really welcome the idea of a team really coming in with amazing programs, having drastic improvement and being able to sky rocket to the top. They are an incredible team, the French team specifically. I think their free dance last year really made people take notice of a new way perhaps to take on a free dance, which is really exciting. So it's really fun for us to be able to see some of these new young talents and see where they take it.
Charlie:(In terms of American ice dancing) I think America is really strong and we've got both Chock/Bates and the Shibutanis. Any day they can challenge not just for world medals, but to win worlds. I think it was actually a big deal for them to not have us at the competitions because you really have to learn how to try to take that lead. And I think you saw that from both of them last year. At each competition, they were learning more and more and doing a better and better job of it. And this upcoming season I expect to see more of the same from them.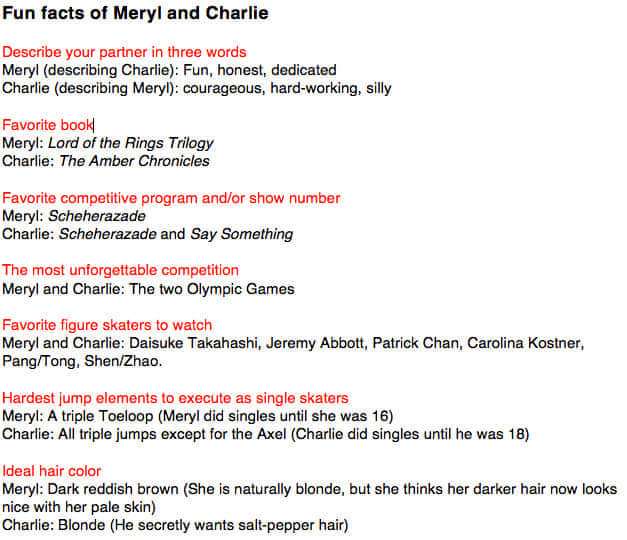 Epilogue
At the end of the interview, Davis and White congratulated Beijing on its successful bid to host the 2022 Olympic Winter Games and passed on their sincere gratitude to everyone in China who made their Artistry On Ice experience absolutely incredible. Davis and White were really excited to see the invigorating figure skating market in China and glad that all of the figure skating competitions and shows are well attended. They really enjoyed their time in China and hope to come back and get to know the country and its people better.
Meryl Davis and Charlie White are two great ambassadors for American and world figure skating, not only because of their athletic abilities and talents, but also their characters. They are two great role models for the future generations, in and out of the sport. The skating world is extremely fortunate to have Meryl and Charlie. They have and are continuing to make figure skating an even more beautiful sport.
前往中文版
(By Cherry Ji)