Vincent Zhou proud of his fight despite injury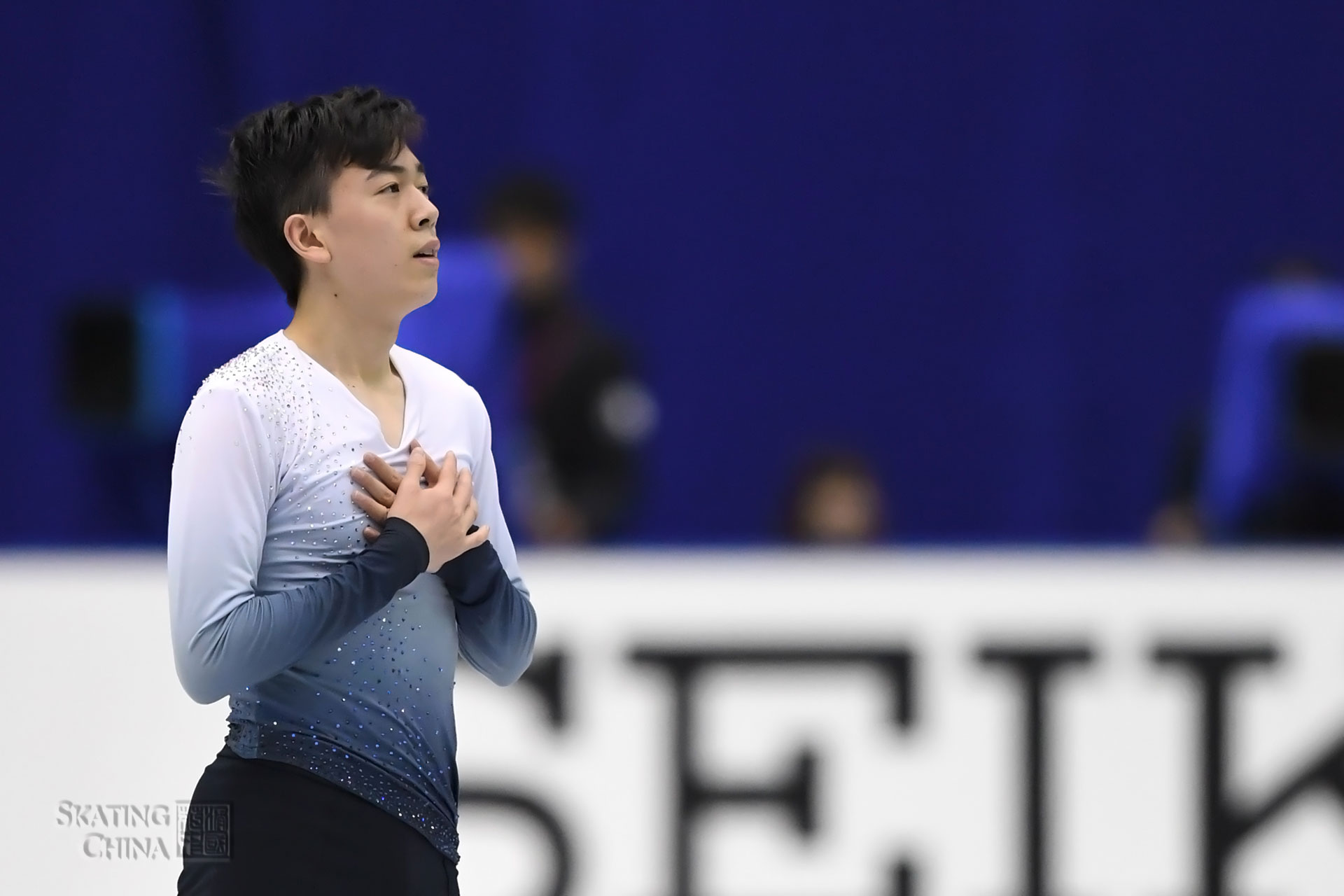 --You touched the ice after the free skate ended. Why did you do so?
I was thankful for the opportunity to be competing, and I just wanted to touch the ice and feel it. Being out there in the big arena is a very special feeling.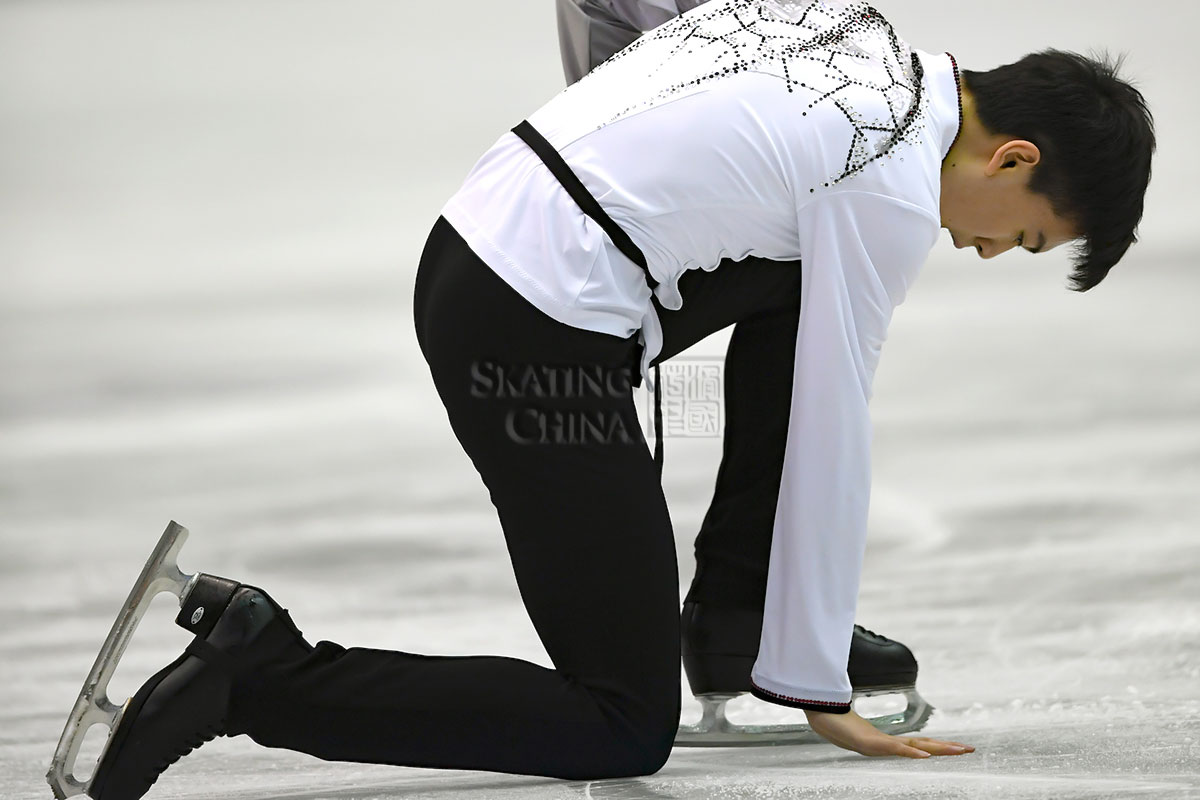 --In February you competed in the Winter Olympics for the first time. How significant was that experience for the next four years?
Now I know what to expect for 2022 Beijing Olympics. I know how I need to be better prepared, and I'll be able to train more effectively now that I know what I need.
--How was your arm injured?
It was dislocated. I have a video showing it (play the video where he fell on his quad, his shoulder hitting the ice hard). It was much pain. I couldn't skate the whole week before I came here. The doctor's advice was that I took rest and not come here to skate, so the past two weeks were very, very hard for me. I was very happy that I skated well.
--Your doctor advised you not to come. How did you decide to come to Japan?
On the Saturday I came back to Colorado to have a try, and then on the Sunday I flew to California to see the doctor again, to let him see how far I went. We had booked the flight tickets and planned everything, so it would be utterly disappointing for me not to be able to compete. I didn't even know if I could do this when I arrived in Japan, and I struggled a lot in my practice. In the end I found it deep within myself to be motivated and to compete and do it well.
--Did you still feel pain during the competition?
My shoulder is feeling much better. The issue is not my shoulder. The issue is that I didn't skate for the whole week. It has a very huge impact on what I will be able to do here.
–Did you talk with Tammy about your injury? Did she adjust your technical plan?
Yeah. When I went on ice again, I felt like being away for a while. I knew I couldn't do two quads in the short and five quads in the free, so we must adjust the technical content. I think the watering down of technical elements is good. It allows me to focus on one or two major elements and skate the programs better.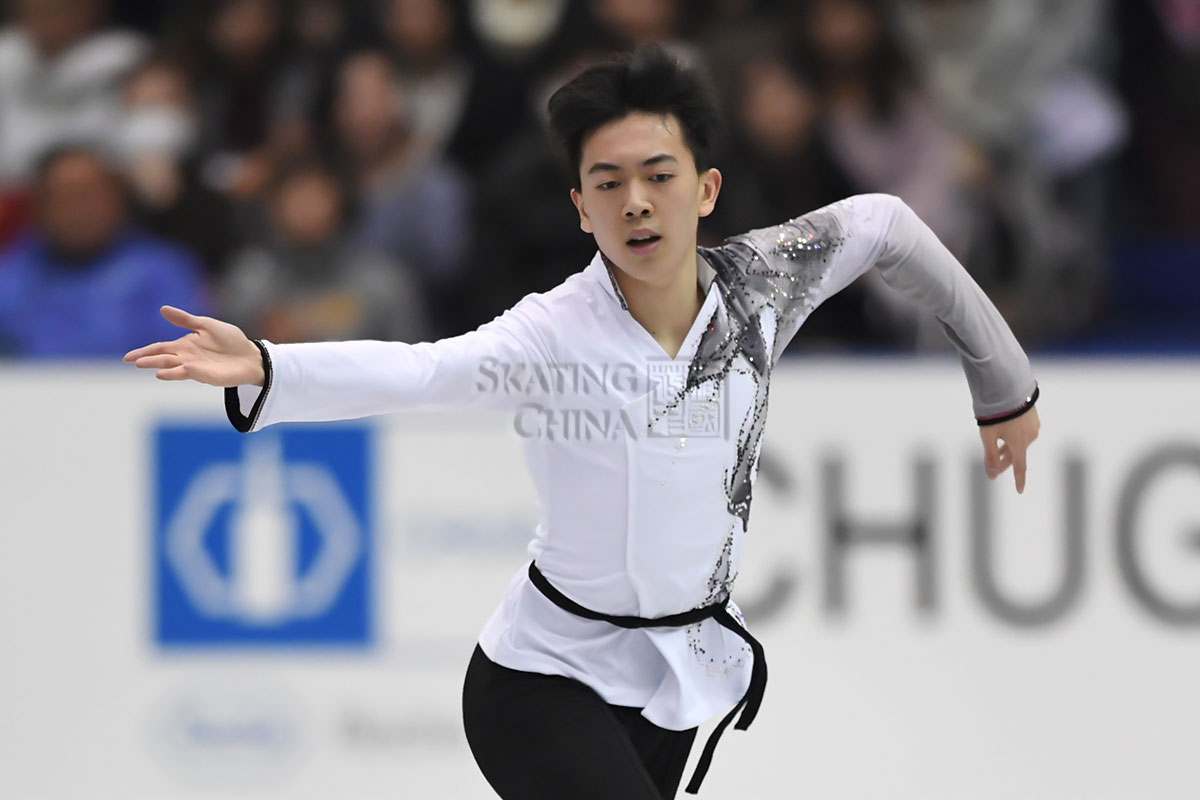 --You have a very challenging technical plan, which may make you more prone to injury. How do you see the relationships between your health, risk, technical plan and your score?
The bigger the risk, the bigger the reward. Because my programs are more difficult, there is certainly more risk, but the higher the risk, the higher the potential score. I am very competitive. I know what I want will be achieved at last. Basically, as long as I have time to train, if I stay healthy, I'm very capable of taking the risk and succeeding.
--This season has witnessed the change of the judging system, and we notice that referees have been stricter in terms of rotation and edge. How do you plan to meet the new requirements?
I've been working very hard on making my jumps cleaner. My landings are never the cleanest, it's been like this since childhood. The landings of my jumps are not straight backward landing, and there's a curve. I'm working very hard to just make my quads straight backwards so that there's no question whether it's clean or not. But I don't know some of the under-rotations marks I've ever seen are reasonable. Some of them I don't quite understand. For example, my quad Flip in the short program at Skate America, my quad Sal in the free skate here. Those were clearly clean jumps. However, I'm not saying that my jumps are good enough. I know I still have to work hard to make my jumps cleaner and more consistent. But it takes time. Because I injured myself last week, I came back and my jumps … all the progress I've made at my jumps after Skate America basically got reset. That's unfortunate, but it's what it is. I took the challenge on at first and I skated well.
--What advice did Tammy give you're on NHK Trophy? What did she say to you yesterday when the match was over?
My coaches were proud of me. Because they knew how difficult it was for me the past two weeks. They didn't set unreasonably high expectations for me, but they pushed me to do better and be in a decent state to compete. They were supportive and helpful throughout the whole week.
--You selected the soundtrack of Crouching Tiger, Hidden Dragon. Any thought you put in it?
It was a decision made by mom, coach and Choreographer Jeff together. I listened to the music and found it pleasant, very nuanced. I thought I could skate it well and it would be a great program.
--Will you continue to try some music with Chinese elements?
Sure I will.
--You've been training in Colorado Springs for a year. What is the difference between there and your rink in California.
Colorado Springs is where the Olympic training center is. It has the highest concentration of athletic resources in the entire country. It's the best place to be in my opinion. There are so many resources readily available for me to use. There's a great rink that caters to figure skating more than hockey. The facility is incredible. The staff is good. I have competition there, I have really good skaters from different countries there. It's good atmosphere to be in.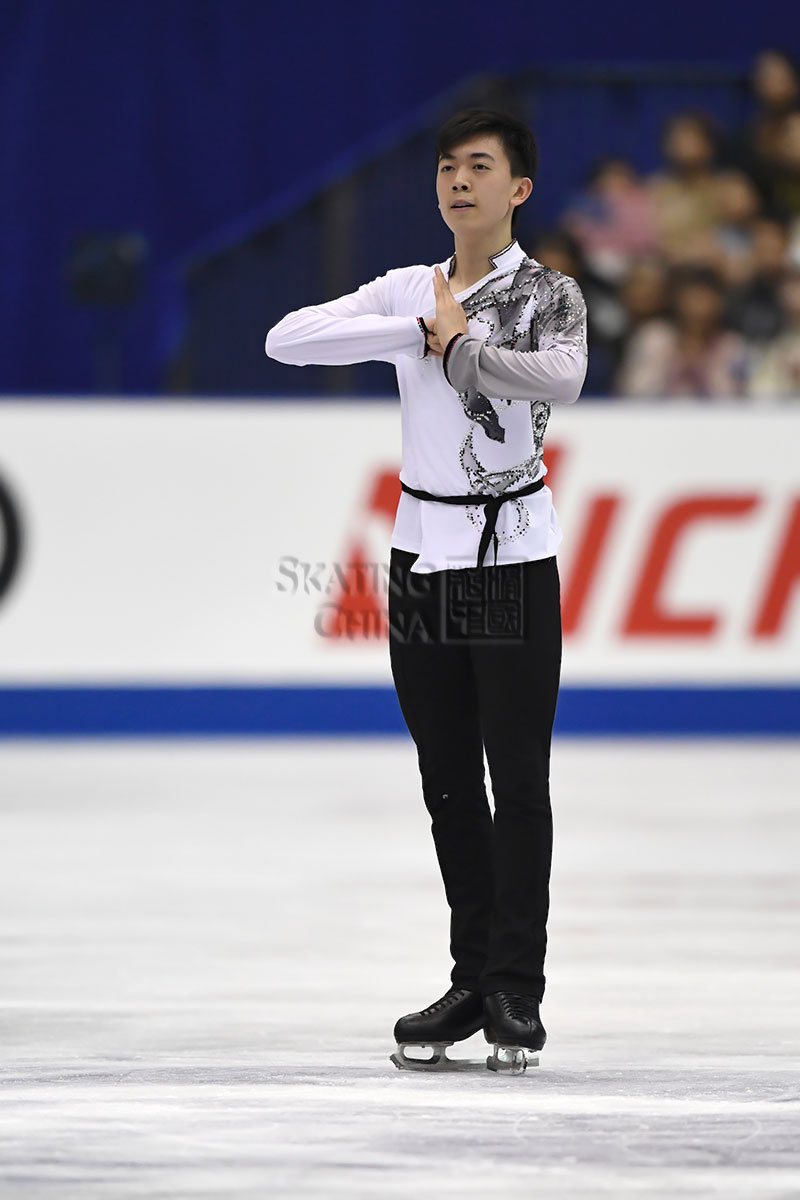 --You seemed to have improved your skating skills and polished your performance.
It is a very natural process. I told myself this season that I am to become a better skater. With that in my subconscious, all the time when I'm skating, I just start to improve. I want the big focus this season to be beyond my skating: my artistry. Not pushing the jumps that much. I think that pays off. I've been working hard with multiple coaches to try to improve my skating skills, my choreography and my movement.
--Looking back on your competitions at Skate America and NHK Trophy, how would you see your courage?
I'm proud of myself for fighting well. Skate America was a learning experience. I think I did very well in both programs. I think I should have been on the podium when there were multiple things that prevented that. I don't like to dwell over that, so I move on and with that result, I move on, go home to better myself. Then I had the injury, the setback before NHK. But I still came here, I'm proud of myself.
--There are still two months before the American National Championships. How do you plan to recover from injuries and meanwhile prepare for the competition?
Over the past two years, I've learnt a lot about managing injuries, training smart and training healthy. I hope to go back to work on my strength and stamina, so that I can be healthy for a longer period of time. I know what I need to train consistency have a very strong show in the Nationals.
–-Last question: your plan for the latter half of the season?
The Grand Prix have been a little rough for me. I've got injuries, my back, my feet, and now my shoulder. So now that the first half of the season was over, it's time to reach for the peak. I hope I can have a small peak in the Nationals, and that my biggest peak is at the Worlds. I want to be on the World podium. I know I can. I was third in the short last year, if it weren't for injuring my back before I left for the Worlds, I would have been on the podium. I would have had a silver medal probably. But again, that's in the past, I shouldn't dwell over it. I will move on and keep training to achieve that in the future. Now that I have a little time to prepare for the Nationals and the Worlds, I hope to remain healthy, train my consistency and my jumps, and continue pushing my artistry. I really believe I have the potential to be one of the best skaters in the world.