Knierim/Frazier Make Strong Statement in International Debut with Skate America Title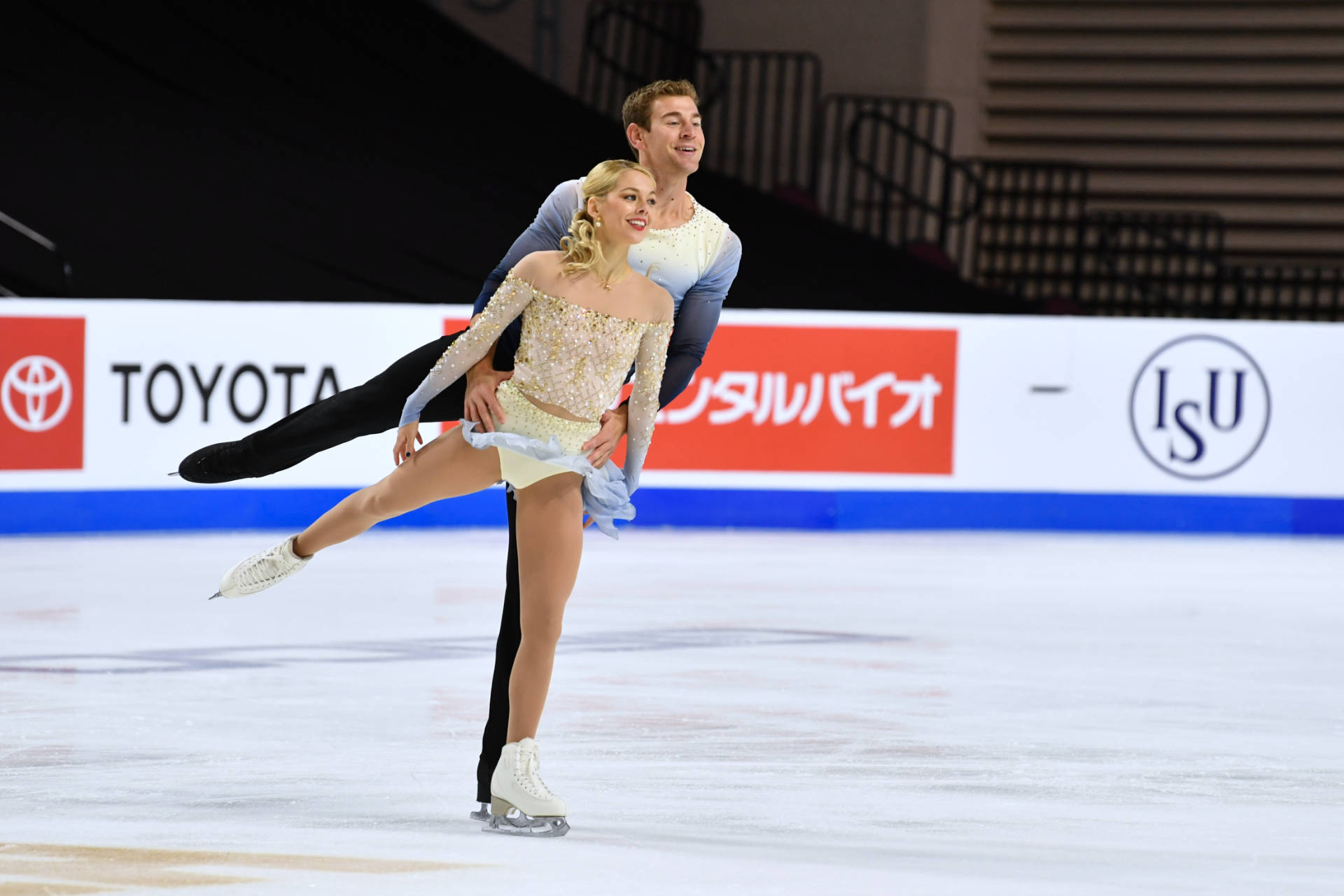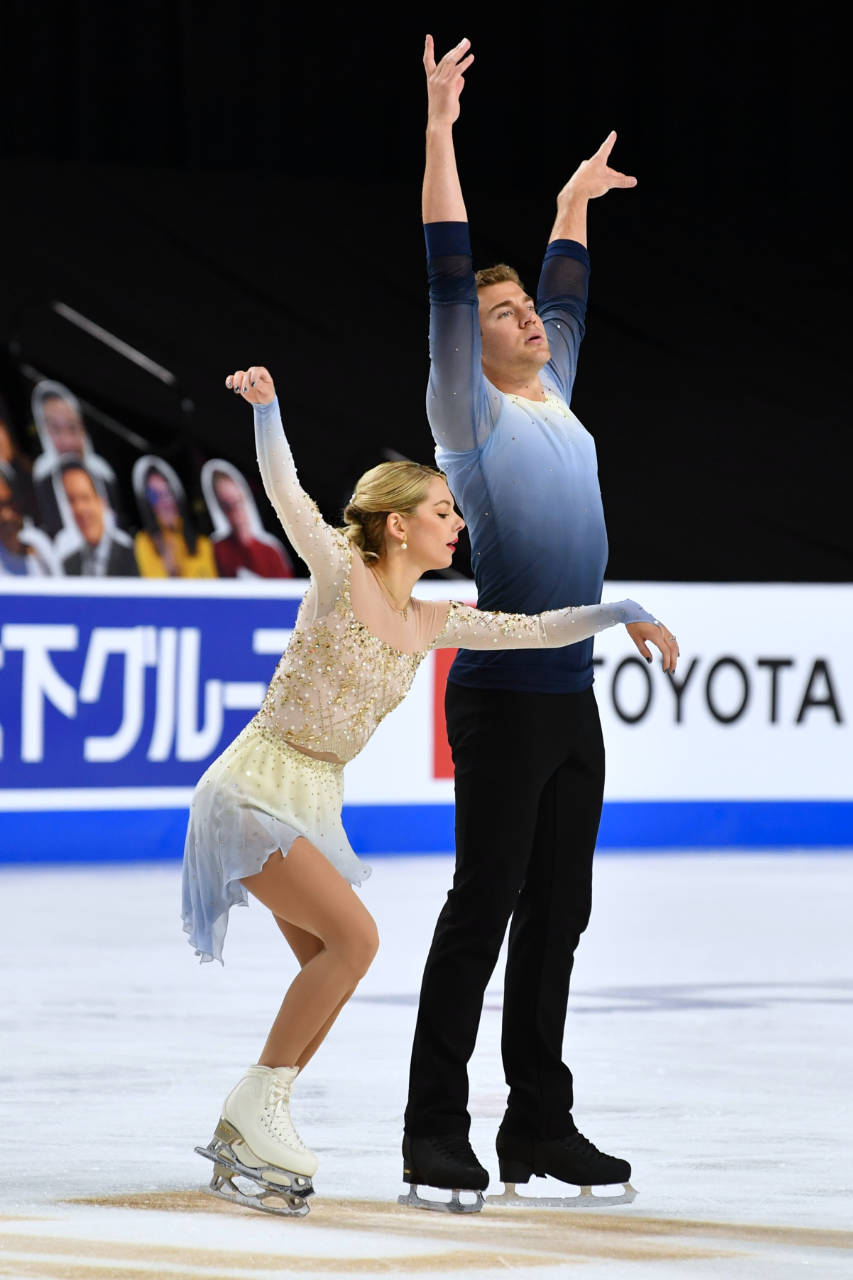 Photo by Jay Adeff/U.S. Figure Skating
When Alexa Knierim and Brandon Frazier ended their respective long-time partnerships in early 2020, they may not have foreseen a career-first Grand Prix gold medal in mere 8 months' time. However, ever since the former national champions teamed up in March, they have constantly exceeded expectations and headed into uncharted territories. On Saturday, October 24th, the newly minted pair claimed the gold medal at Skate America, the first major international skating event of the season in dominant fashion. Leaders after the short program, Knierim and Frazier backed up their clean performance with another nearly flawless skate to "Fall on Me" by Andrea and Matteo Bocelli, which featured two strong side-by-side triple jumps, explosive throws and intricate lifts. While Knierim/Frazier were elated with their first Grand Prix title, it was even more assuring for them to see their hard work come into fruition.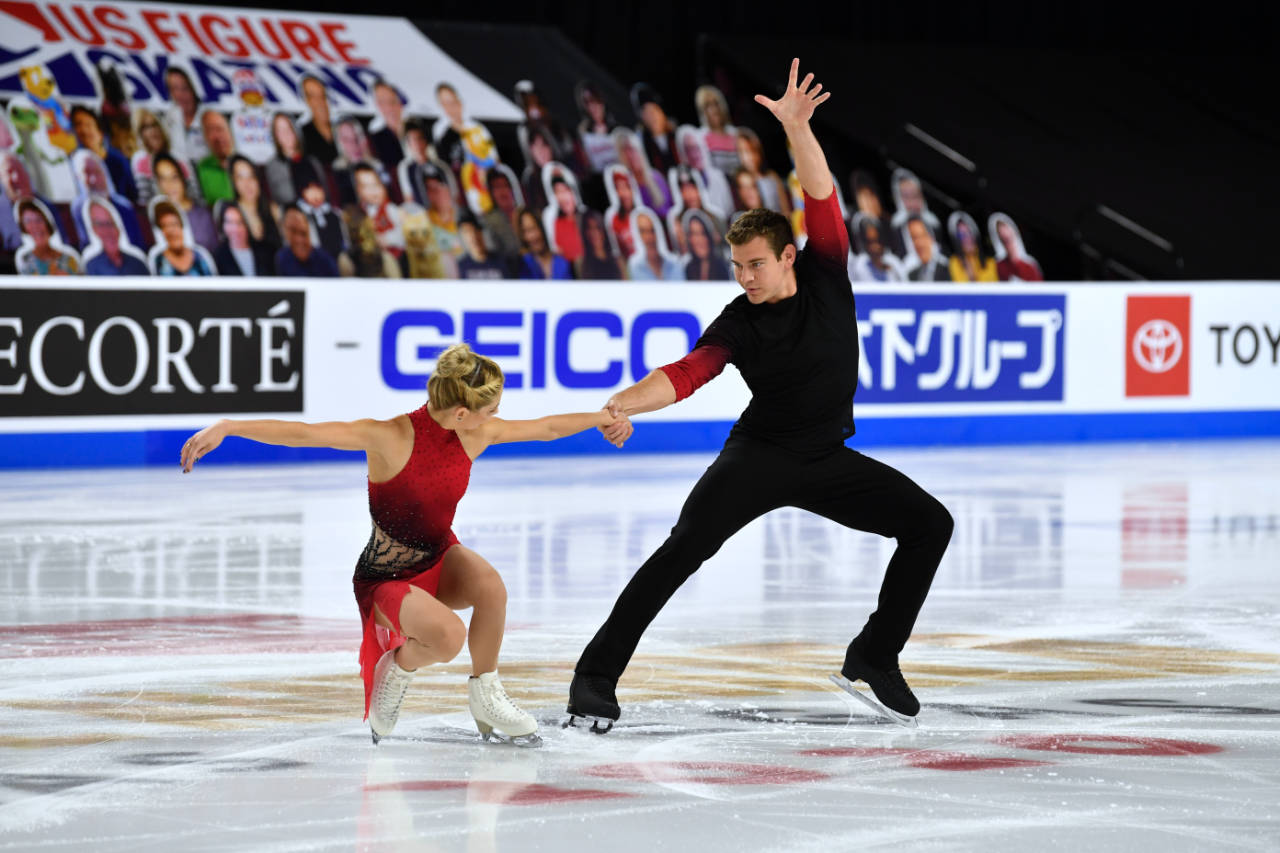 Photo by Jay Adeff/U.S. Figure Skating
"It is always great to have a successful event and to place well," Knierim explained, "…but as athletes, sometimes it's more about the performance you put out rather than the placement. More than anything I think inside we're pleased with the progress and we felt like our hard work has paid off." The newly crowned Skate America champions had made a lot of adjustments since the ISP Point Challenge, a virtual competition series that gave Team USA members two opportunities to debut new programs without having to leave their home rinks. "The two elements that were improved were triple salchow and triple flip because I missed them in the second virtual [competition]," Knierim commented, "but more than any element, I think the skating and the in between was more powerful and polished."
It is no easy feat for any skater to make a strong statement in their season debut in the midst of a global pandemic, but for Knierim and Frazier, stay-at-home orders issued across the U.S. starting in mid-March also meant that they had to jump start their partnership off the ice in a school parking lot. In hindsight, both skaters acknowledged that their shared commitment to and faith in their partnership has helped them work through roadblocks that have come their way. "I made a joke to Brandon when we got our scores that this partnership is going to work," Knierim said in their post-free skate press conference, "but I really did not have any doubt prior." "I told Alexa that this is going to be a big marathon," Frazier added, speaking of the start of their partnership, "but no matter how slowly we start the race, I'm excited to be on it with her.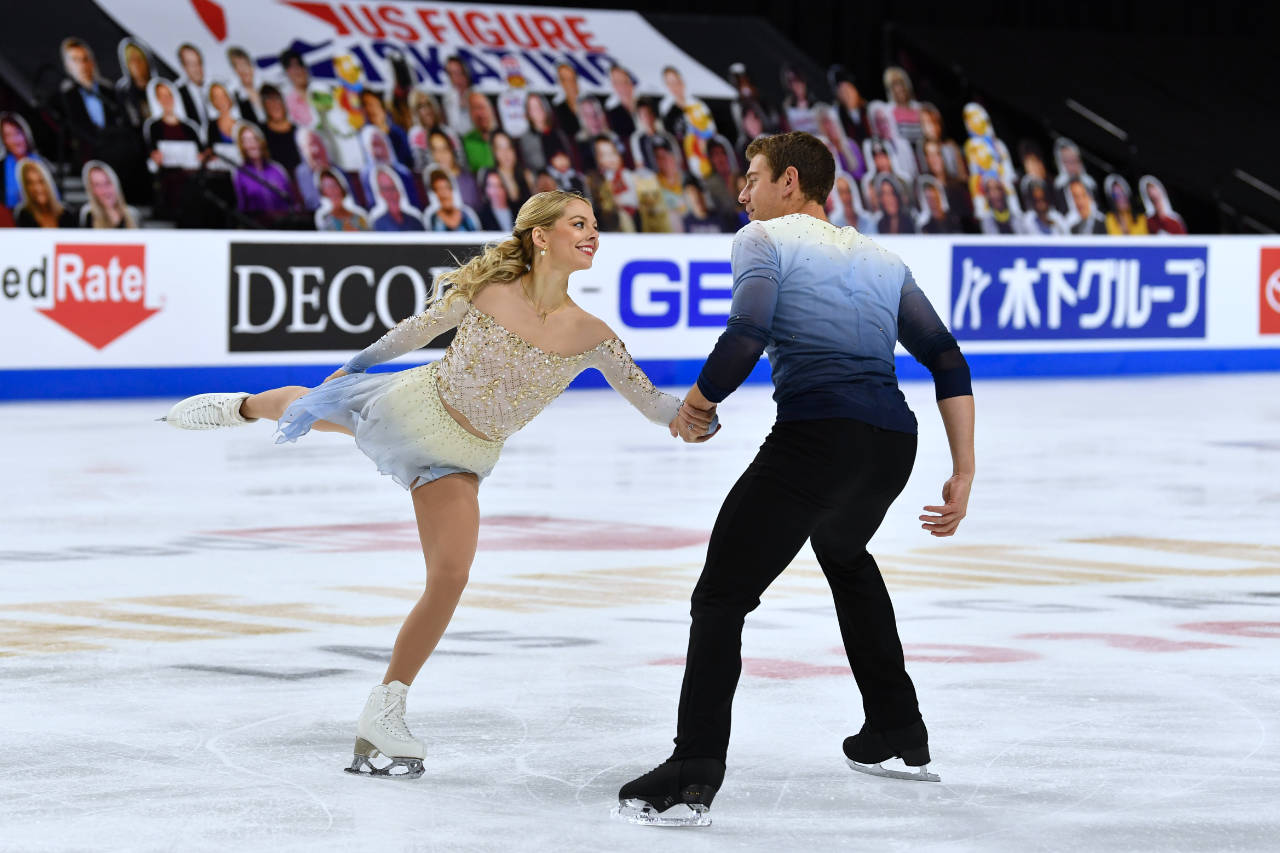 Photo by Jay Adeff/U.S. Figure Skating
After Frazier relocated to their training base in Irvine, California and spent time in quarantine, the pair began putting together new lifts and meshing their twist techniques together off the ice. By the time they were able to return to the ice rink, Knierim and Frazier realized that time spent in lockdown had been a blessing in disguise. "When we were able to get on the ice, we had a pretty good foundation of the lift timing and technique to start with," Knierim recalled, "it may have been a little overwhelming if we just started our partnership day one on the ice." Grateful to be skating together, Knierim and Frazier were determined to make the best use of their limited ice time and overcame the growth pains that came with a new partnership. Even though both skaters excelled in their twist and throws, it did not instantly translate in the new pairing. "It's almost like learning a brand new language," Frazier described, "the throws and twist were big elements that took a lot of time."
The pair credits Chris Knierim, Alexa Knierim's former skating partner and husband, for their expedited learning curve. Chris Knierim became a member of their coaching team after announcing his retirement from competitive skating in February. Having skated with Alexa Knierim for 8 years, during which the married couple claimed three national titles and a team bronze medal at the 2018 Olympic Games, Chris Knierim not only has a wealth of knowledge about pair skating, but also unparalleled insight into Alexa Knierim's technique as a pair skater. Therefore, when Alexa Knierim and Brandon Frazier experienced technical issues with an element, they have relied on Chris Knierim to offer his unique perspective. Frazier shared that having Chris Knierim at the rink has made his job infinitely easier: "when I'm struggling with something, it was so easy to have someone who has done it for years with such great quality to break it down." Alexa Knierim echoed his sentiment. "Sometimes when we would be struggling to figure out the technique on something, I would do a walk-through with Chris and then do a walk-through with Brandon until I could figure out what's so different."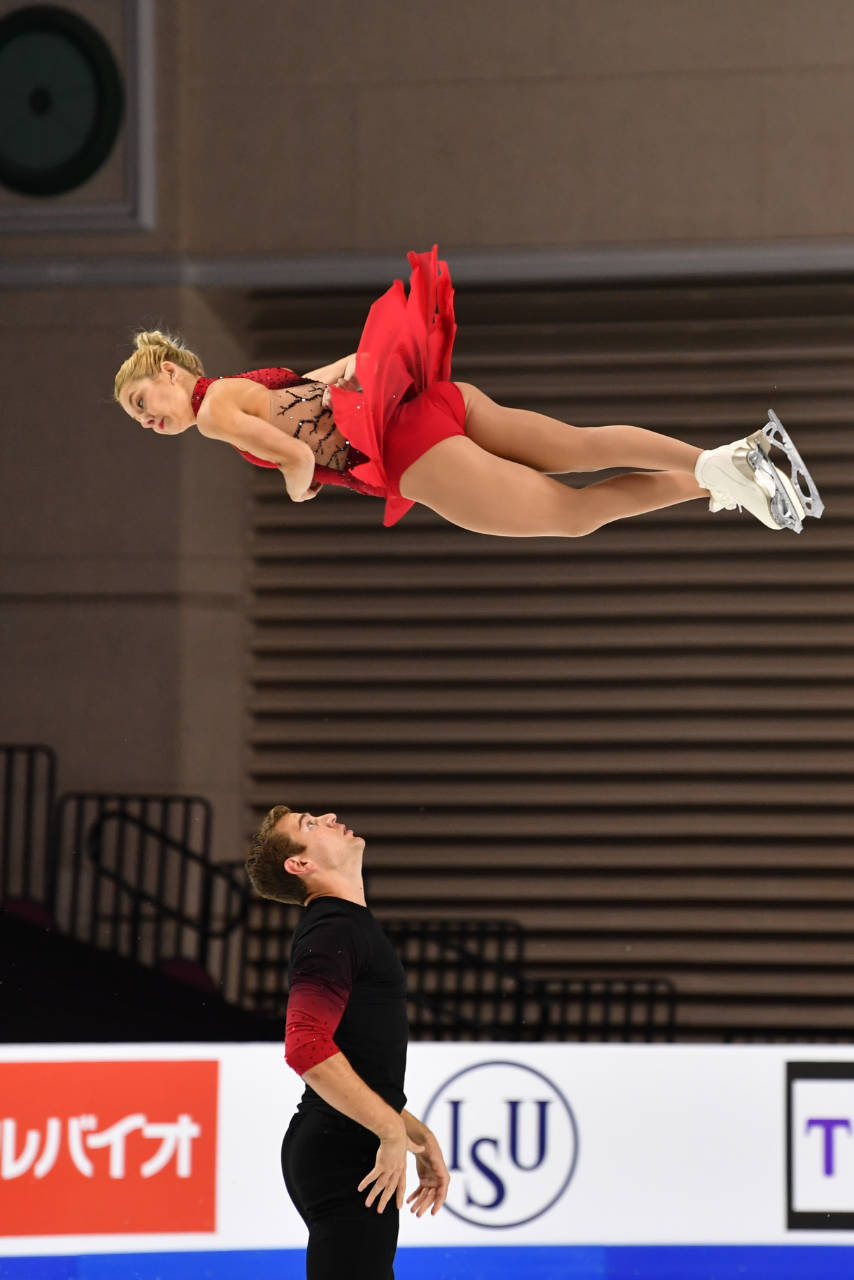 Photo by Jay Adeff/U.S. Figure Skating
In addition to an experienced and supportive coaching team that also includes former Olympians and national champions Jenni Meno and Todd Sand, Knierim and Frazier compliment each other on their open-mindedness when trying to mesh two techniques together. Frazier was particularly impressed by his partner's courage and adventurous spirit when experimenting new lifts with him. Knierim mastered an intricate Reverse Lasso lift that took Frazier a year to learn in his previous partnership in the span of a few months, overcoming her initial fear and insecurity on the element. Their collective effort has certainly paid off, as the pair garnered a whopping 9.8 points on the Reverse Lasso lift, the highest scoring element in their free program en route to be crowned Skate America champions.
After their successful outing at Skate America, Knierim and Frazier are scheduled to compete in the U.S. Championship Series next month. The duo hopes to improve upon their Grand Prix debut by becoming more reliable when it comes to getting their levels called on elements such as the pair spin and death spiral. When asked about their long-term goal of competing at the 2022 Olympic Games, Knierim and Frazier believe they are competitive enough to make the team, but are more focused on taking incremental steps to grow as a pair. "It's the ultimate goal for sure," Knierim admitted, "but one day at a time and everything in moderation."
(Writter/Cherry Ji; Photographer/Jay Adeff - U.S. Figure Skating)